PPTour Nova Gorica: D'agostino triple up pirotecnico, gli aggiornamenti dal day 1A
PPTour Nova Gorica: D'agostino triple up pirotecnico, gli aggiornamenti dal day 1A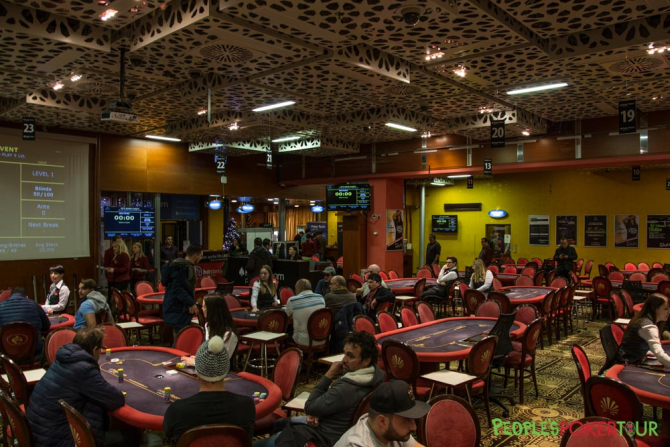 La trentunesima edizione del People's Poker Tour ha preso il via nella sala del Casinò Perla di Nova Gorica. Un altissimo numero di qualificati online caratterizzerà questa tappa davvero interessante, che si è mostrata movimentata fin dall'inizio. Qui tutti gli aggiornamenti live!
Ore 00:35 – 133 entries!
Il field di oggi è quanto di più eterogeneo si potesse immaginare. Ci sono amatori alla prima esperienza e gruppi di grinder agguerriti, ma con una netta maggioranza di non professionisti. L'atmosfera è comunque divertente e rilassata. 133 gli ingressi fino al momento, comprensivi di 9 re-entry.
Ore 23:00 – Incredibile: Durante out!
Ci avviciniamo al solito tavolo numero 25 e non vediamo più Domenico Durante. Chipleader con 800 big blinds a metà secondo livello, non è riuscito a concludere il quinto.
Ore 22:00 – Monster pot per D'Agostino!
Sempre il tavolo numero 23 è teatro di una mano pirotecnica. Su livello 150/300 da under the gun limpa Domenico Durante, nettamente chipleader del tavolo. Fabrizio D'agostino da middle isola fino a 1300, cold-call per Ivan Tellini da big blind e gioca anche durante.Limp Durante.
Flop **c4* **f8* **qa*, check dei primi due e continuation bet a 1475 di D'agostino, miniraise di Tellini fino a 3000 e call sia di Durante che di D'agostino.
Il turn **c5* scatena ancora di più l'action: bet 6000 di Tellini, raise 13000 di Durante, allin per 32000 di D'agostino cui seguono il call-allin di Tellini (che aveva qualcosa meno di D'agostino) e chiama anche Durante per questo showdown:
Tellini **ca* **q4*
Durante **p3* **q2*
D'agostino **ck* **c3*
River? **c7* e colore per Fabrizio D'agostino, che così elimina Tellini triplicando di fatto il suo stack, ora oltre le 100mila unità.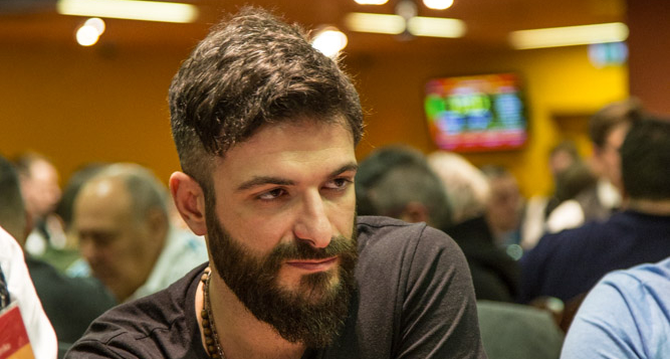 Fabrizio D'agostino
Ore 21:00 – 127 entries!
Siamo giunti al quarto livello di gioco e sono al momento 127 gli ingressi al day 1A del PPTour Nova Gorica, frutto di 124 giocatori unici e 3 re-entries. Tra gli eliminati Vincenzo Di Martino, Daniele Gabellieri, Roberto Longo, Matteo Turco e Antonio Fragnelli.
Ore 19:00 – Durante in rush totale: chiude scala colore e sale a 800 big blinds!
Incredibile, il rush che Domenico Durante sta vivendo in queste prime fasi del day 1A. Il caldissimo player non si accontenta di floppare "solo" scala colore con **f5* **f6* su **f7* **f8* **f9*, ma riesce anche a farsi pagare i massimi! Al termine di un'action ancora non troppo chiara, Domenico manda resti sul river quando il board recita **f7* **f8* **f9* **p6* **c9* e Sergio Somma decide di chiamare con **fa* **fq*. Già vincitore di un PPTour a Portoroz, Somma la prende tutto sommato bene, si accomoda alla cassa a fare re-entry e, dopo qualche minuto, rieccolo schierato!
Ore 18:25 – Primo player out!
Non dura neanche mezzora il PPTour di Danilo Malerba, che non ha trovato la forza di foldare i suoi AA su flop KK9. Buon per Domenico Durante, che aveva aperto e poi chiamato la 3bet dell'avversario preflop ed ha incassato il trips centrato coi suoi AK. Durante precoce chipleader a circa 50mila fiches!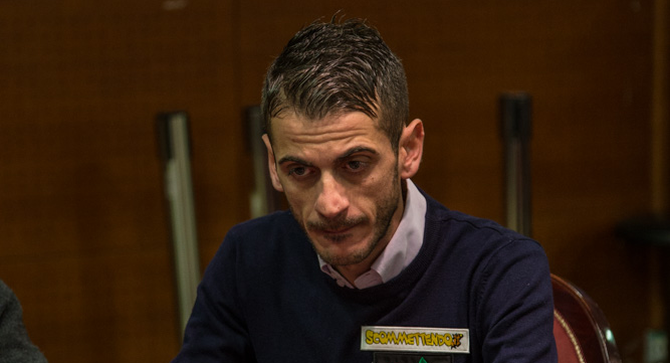 Domenico Durante, chipleader "precoce" del torneo già al primo livello!
Ore 18:00 – Shuffle Up and deal con Pamela, per il PPTour Nova Gorica!
La voce della madrina del PPTour Pamela Camassa annuncia il via per questa tappa del PPTour, che vedrà protagonisti oltre 160 qualificati online, di cui circa la metà schierata oggi. Per tutti 25.000 chips di partenza, da gestire nei 9 livelli da 60 minuti in programma oggi, partendo dal 50/100.