MTT Online: 'spera91' e un lunedì da €8.600, ma nello Special 'KAPPAGGIBBI' incassa oltre €27k
MTT Online: 'spera91' e un lunedì da €8.600, ma nello Special 'KAPPAGGIBBI' incassa oltre €27k
Un sorridente Simone 'spera91' Speranza (a destra)
€250 Sunday Special Progressive KO Edition, €150.000 garantiti
Ripartiamo dal Sunday Special di Pokerstars.it, dove 'KAPPAGGIBBI' – regular che ha vinto diversi tornei importanti da queste parti – ha fatto il colpaccio: infliggendo la sconfitta in heads-up ad Alessandro 'aleppp' Giannelli, ha messo le mani su €15.214.
A questo premio si vanno ad aggiungere ben €11.838 di taglie, per un totale superiore ai €27.000. Niente da fare per Simone 'spera91' Speranza, chip leader del Day 1 che si è fermato al 7° posto, per un totale di oltre €5.400 – taglie incluse.
Final table anche per Emiliano 'Grinderush10' Straccialini, che ha chiuso in 4° posizione incassando circa €9.200 complessivi. 14° posto per Marco 'Peraz77' Perra, 20° per Alessandro 'zlale' Robuffo, 36° per Christian 'ninetto1989' Nuvola e 44° per Thomas 'zawarella' Zavaroni.
Il payout del final table: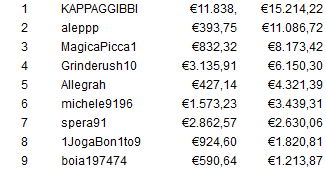 €100 Night On Stars, €50.000 garantiti
627 iscritti, 107 a premio, e un garantito da €50.000 superato fino ad arrivare a €56.430: in tre parole, Night on Stars. Al termine di un deal a tre, 'instancal89' si è aggiudicato la vittoria, ma non il premio più alto.
Quello è finito nelle tasche di uno scatenato Gian Mario 'JJElLoco88' Gheza, mattatore degli MTT Online in questi ultimi giorni e reduce proprio da una vittoria nel Night on Stars – di cui ci raccontava in un'intervista.
Buon 6° posto per Luca 'steva10' Stevanato, mentre Alessio 'AleAsto2' Astone si è dovuto accontentare di un 28° posto. Così come Paolo 'Vladharkon' Ciuffi, la cui corsa si è arrestata in 31° posizione. ITM anche per Enrico 'Wh4t1sL0v3' Camosci e Luigi 'Il-Giuglia' D'Alterio.
Il final table: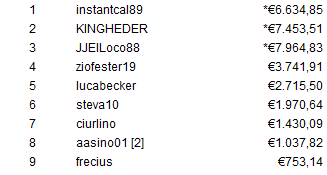 €250 The Bigger, €15.000 garantiti
Anche questa settimana il The Bigger, il torneo preferito dai regular, supera il montepremi garantito grazie alle 67 iscrizioni. Vittoria sfiorata per Simone 'spera91' Speranza, che si deve inchinare ad 'ELNUNO83', lasciandogli vittoria e prima moneta da €4.685.
Sul podio anche Niccolò 'JhonCheever' Cappellesso, mentre Salvatore 'totosara_93' Saracino è arrivato 6°, davanti ad Armando 'AssoCapitoli' Graziano, Luca 'steva10' Stevanato e Christian 'ninetto1989' Nuvola.
Andrea 'ANDREXSORRE' Sorrentino è uscito al 10° posto, primo dei player non pagati: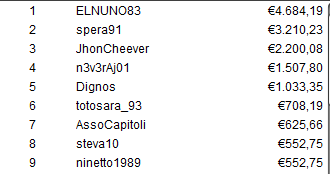 Su PokerStars.it sono arrivati gli Spin & Go Max: registrati subito! Ti attendono promozioni speciali!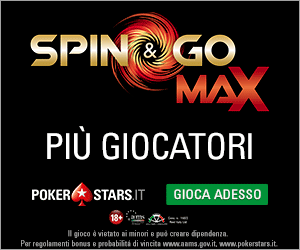 €50 Sunday Light, €20.000 garantiti
Su People's Poker (StanleyBet, BetSense, NewGioco), il Super Sunday è finito nelle mani di 'melosentomelosento' (nomen omen), al quale sono andati i €3.782 del primo premio. Secondo posto per 'zeus1999' (€2.758), terzo per 'Only1Sh0t' (€1.942).
20° posto e piccolo ITM per Alberto 'Everbrun' Cigliano: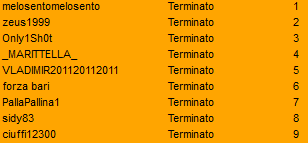 €100 Explosive Sunday, €27.500 garantiti
Su iPoker (Sisal, Snai, Eurobet, Titanbet),  l'Explosive Sunday conferma il primo posto del Day 1 e premia 'tahiti751': heads-up vinto contro 'mrGR33N13' e €5.249 per lui – mentre al runner-up ne sono andati poco meno di €4.000.
Niccolò 'WhyAlw4ysM333' Serlenga ha raggiunto il final table, ma si è fermato al 9° posto. Angelo 'Mirabellaisia' Mirabella, invece, è scivolato dalla 12° piazza del Day 1 alla 19° finale: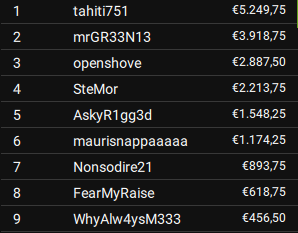 €50 Sunday Night, €10.000 garantiti
Su Lottomatica, 'nino706' ha messo in fila tutti i suoi avversari e ha conquistato il Sunday Night da €2.600 di prima moneta. Niente da fare per 'ioposscam' e 'fiume09', fermatisi rispettivamente in 2° e 3° posizione.
7° posto finale per Andrea 'PROFdegliHEADSup' Carini, mentre Alessandro 'YesUiChen' Caria è stato eliminato prima dello scoppio della bolla: