WSOP 2018: clamorosa rimonta di Fedor Holz nel One Drop, Bonomo leader
WSOP 2018: clamorosa rimonta di Fedor Holz nel One Drop, Bonomo leader
27 paganti totali
Il "$1.000.000 The Big One for One Drop", alle WSOP 2018, chiude le registrazioni allo start del day 2. Se in 24 si sono gettati nella mischia del day 1, in tre sfruttano la late registration. Si tratta di Rainer Kempe, Byron Kaverman e Brian Rast, con Kempe che dura una manciata di minuti prima di essere eliminato. In tutto sono 27 i giocatori che hanno sborsato 1 milione di dollari per un prize pool di 24.480.000$ da spartire in 5 posizioni "In the Money". Si va dalla ricompensa minima di 2.000.000$ fino alla prima moneta da 10.000.000. In 22 riprendono posto ai tavoli per la seconda giornata e l'obiettivo comune è quello di centrare il pass per il final table.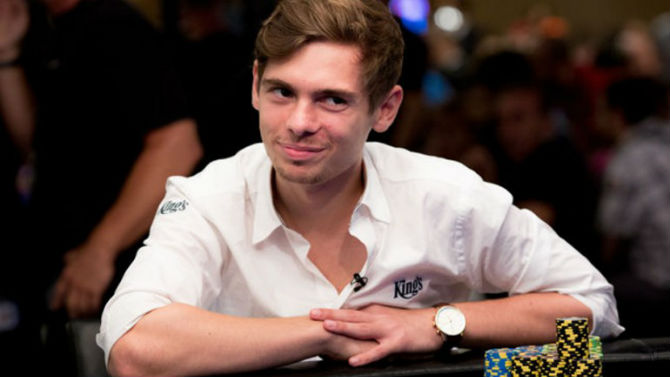 Fedor Holz
Nonostante un numero di giocatori sotto le attese, non manca certo lo spettacolo nell'evento#78 delle WSOP 2018. E come al solito ci pensa Fedor Holz a comandare le danze. Il tedesco riparte dalla penultima piazza del count, ma si prende subito lo scalpo di Adrian Mateos: lo spagnolo fanalino di coda si arrende al full di Fedor. Il giocatore della Germania non fa sconti e poco dopo elimina Talal Shakerchi con A-K vs 9-9. Per un player che inizia la sua scalata, ne troviamo un altro che fa il percorso inverso.
Si tratta di Daniel Negreanu che per due volte si scontra con Steffen Sontheimer e per altrettante tante volte soccombe. Nella prima vede K-K arrendersi vs A-J, mentre nella seconda ci prova in bvb con 10-7 e non supera A-6 del rivale. Il team pro pokerstar è dunque fuori dal torneo e in maniera abbastanza clamorosa. Vengono a loro volta eliminati  Stephen Chidwick, Mikita Badziakouski e Brian Rast che perde il tiro di moneta con A-K vs Q-Q di Petrangelo.
Ivey out in ottava piazza
Il "$1.000.000 The Big One for One Drop", evento finale delle WSOP 2018, prosegue la sua marcia inesorabile verso la composizione del tavolo finale. Da 16 left in poi è Justin Bonomo a dominare nel count, visto che prima si prende lo scalpo di Jason Koon con Q-Q vs 10-10 e poi busta anche Dominik Nitsche: A-K dell'americano non lascia scampo ad A-Q del tedesco. Erik Seidel piazza un colpo gobbo, quando elimina Christoph Vogelsang. Il tedesco finisce ai resti sul flop J-4-3 con J-4, mentre il player a stelle e strisce si presenta con 5-5. Sembra fatta per Vogelsang, ma un asso al turn e un clamoroso 2 al river, consegnano la scala runner runner a Seidel.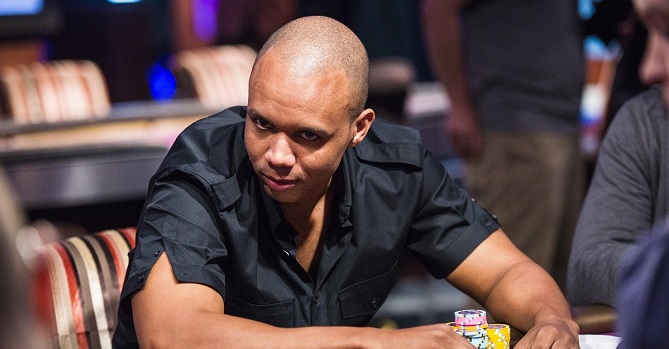 Phil Ivey
Per Erik Seidel le buone notizie finiscono qui. Infatti nel giro di due mani si trova fuori dai giochi. Kaverman con A-K deplode le dame con K al flop. Seidel rimasto con pochissime chips finisce ai resti sul flop 10-9-8 con Q-J: scala floppata non basta, visto che David Einhorn chiama con flush draw e lo chiude al river. In ottava piazza si chiude il torneo di Phil Ivey. Se nel day 1 era stato il mattatore, nella seconda giornata è spettatore non pagante. Così da secondo in chips si ritrova ultimo nel count e con A-J sbatte su K-K di Bonomo. L'ultimo a mancare il final table è Nick Petrangelo. E settimo classificato, quando anche lui paga la dura legge di Justin Bonomo: Nick si presenta con A-8 e la coppia di nove di Justin tiene.
Bonomo super leader
Dopo un lunghissimo day 2, abbiamo quindi i sei finalisti del The Big One for One Drop alle WSOP 2018. Justin Bonomo si conferma nel suo anno di grazia. Lo abbiamo scritto parecchie volte: il player americano mai come nel 2018 ha vinto così tanto. E può mettere la ciliegina sulla torta, visto che riparte da quota 49.000.000 nel count. Impressionate la sua fuga, soprattutto se consideriamo lo stack di Holz. Il tedesco infatti è secondo, ma mette dentro la busta "solo" 22 milioni. Nonostante lo svantaggio, Fedor ha impressionato per l'ennesima rimonta di spessore.
Justin Bonomo (photo courtesy PokerstarsBlog)
Dan Smith completa a sua volta il podio virtuale con 21.500.000. Scende al quarto posto, l'ex leader del day 1 Rick Salomon (19.700.000). Molto più staccati David Einhorn e Byron Kaverman: David accumula 12.300.000 pezzi e Byron è ultimo con 10.500.000 chips. Servirà ancora un'eliminazione per assistere allo scoppio della bolla. Il final table del "$1.000.000 The Big One for One Drop" decolla alle 17.30 di Las Vegas, quando in Italia saranno le 2.30 del mattino. E' l'ultimo atto delle WSOP 2018.
Il count ufficiale
Justin Bonomo 48,950,000
Fedor Holz 22,125,000
Dan Smith 21,450,000
Rick Salomon 19,650,000
David Einhorn 12,300,000
Byron Kaverman 10,525,000
Il payout
1 $10,000,000
2 $6,000,000
3 $4,000,000
4 $2,800,000
5 $2,000,000
Finalmente 888, la seconda Poker Room online a livello mondiale è arrivata in Italia. Registrati subito! Per te un Bonus immediato di 8 euro senza deposito e Freeroll giornalieri da 5000 euro.