MTT Online: la Half Price Sunday si conclude con due deal alla pari
MTT Online: la Half Price Sunday si conclude con due deal alla pari
€50 Half Price Sunday Special, €50.000 garantiti
Il Sunday Special in versione Half Price da €111.780 (montepremi generato dalle 2.484 entries) si è concluso alle 03:24 con un deal alla pari. Infatti, gli ultimi due giocatori rimanenti "PrincessCate" e "SkullOfDeath" hanno deciso di interrompere il gioco e dividersi equamente il montepremi rimanente. Alla fine hanno chiuso il torneo incassando €14.048 a testa. Ufficialmente, il vincitore è "PrincessCate", primo classificato nel payout. Dei tanti reg che abbiamo menzionato ieri, colui che si è spinto più lontano è stato Andrea "andryguen" Panarese, settimo classificato per €2.152.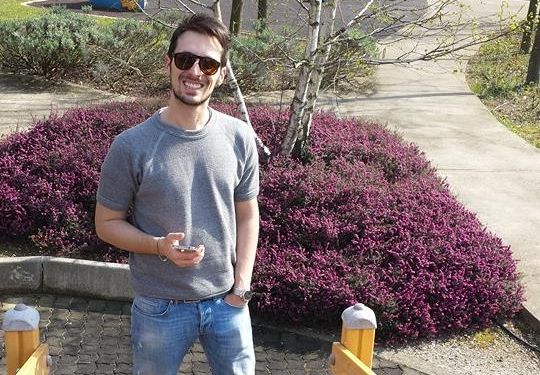 Andrea Panarese
Il payout:

€125 Sunday High Roller, €30.000 garantiti
Anche il Sunday Special con buy-in dimezzato e montepremi generato di €55.350 si è concluso con un deal alla pari. In questo caso sono stati "Bulgaro98" e il reg "PinoloPinolo" ad incassare la stessa cifra, nello specifico €8.485. Terza posizione da €5.179 per Salvatore "toreboxe80" Erittu.
Salvatore Erittu
Il payout:

€100 Explosive Sunday, €12.500 garantiti
Su iPoker è stato "giovanninonatz" a imporsi nel Day 2 del domenicale più ricco. A mezzanotte e mezza, il giocatore in questione ha vinto il torneo incassando un primo premio di €2.779. Completano il podio "UNICORN0" e "sasyderric10", ricompensati rispettivamente con €2.038 e €1.535.
Il payout: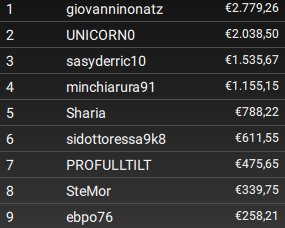 €100 Super Sunday, €20.000 garantiti
Su People's Poker si è giocato il Day 2 del Super Sunday da €20.000 garantiti, major domenicale che ha totalizzato 211 entries ed è stato vinto, dieci minuti prima dell'una di notte, dal player "_DIEGO10". Per lui una prima moneta di €4.374, conquistata dopo aver vinto l'heads-up con "maurisnappaaa", runner-up per €3.140. Terza posizione da €2.210 per "juveclub05".
Il payout:
_DIEGO10 €4.374
maurisnappaaa €3.140
juveclub05 €2.210
smig222 €1.590
lullu57 €1.104
fedeshark86 €824
careca086 €610
lampedusa8 €456
freedoMen €346
€50 Sunday Night, €6.000 garantiti
Il domenicale di punta di Lottomatica riprendeva nel Day 2 con gli ultimi sei giocatori rimanenti. Non ci è voluto molto tempo prima di giungere alla conclusione, ovvero al successo di "panters". È lui il vincitore del torneo e del primo premio di €2.200. Alle sue spalle "hankook3" e "carloale1", ricompensati rispettivamente con €1.500 e €900.
Il payout: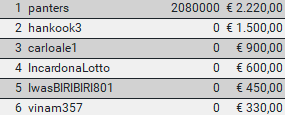 €100 Night On Stars, €40.000 garantiti
Il Night On Stars del lunedì sera ha fatto segnare 486 entries, per un prize pool finale di €43.740. Come nei due principali domenicali, anche qui c'è stato un deal. In questo caso sono stati i primi quattro classificati ad accordarsi, tra cui un Enrico "derosa24" De Rosa che pur chiudendo quarto ha incassato €5.117 (rispetto ai €3.066 del payout regolare). Terza posizione a €4.587 per "piddu1989", mentre il runner-up "clark–kal" ha incassato €5.173. Il vincitore "fivebet565" si è assicurato il premio più alto: €5.862.
Il payout:

€250 The Bigger, €15.000 garantiti
Chiudiamo il nostro report con il The Bigger del lunedì sera. Ieri ci sono state 59 entries ed è stato Salvatore "totosara_93" Saracino a trionfare, ma solo dopo un deal con "Alexd3", che pur chiudendo da runner-up ha incassato una cifra più alta. Il secondo classificato ha infatti vinto €4.283, mentre Saracino si è assicurato €4.088. Completa il podio il reg "23n23", terzo per €2.292. Tra i finalisti Nikol "barabbic" Babic.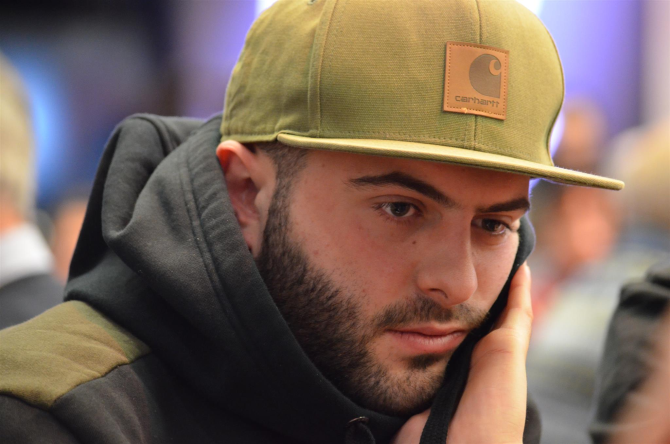 Salvatore Saracino
Il payout: